credit – Nur Atiqah Adon
Pada 2018 DIY travel ke New Zealand. Lama betul baru dapat melancong semula. Alhamdulillah untuk tahun ini 2022 Allah izinkan lagi untuk melancong ke Switzerland pula dengan suami dan anak-anak yang berusia (3, 6 & 9 tahun). Pada mulanya seakan tidak percaya angan-angan telah menjadi kenyataan. Kebetulan pada awal Jun 2022 Singapore Airline (SIA) menawarkan promosi dengan harga RM2.3k per pax, dan tuah kami terjumpa tiket flight dengan harga yang sangat berpatutan Justeru itu, terus grab dan tidak berfikir panjang . (Bermula dari membeli tiket, barulah saya dan suami memulakan rancangan perjalanan idaman ini,
Switzerland, kecantikan Swiss Alps amatlah terkenal dengan pemandangan alam semula jadi yang sangat memukau pandangan mata. Boleh dikatakan tak terkata dengan indahnya ciptaan ilahi. Di setiap sudut kawasan tersebut kami terpersona kerana disajikan dengan kecantikan yang luar biasa, sehingga tidak terakan setiap detik. Maklumlah syurga dunia katanya seperti artikel tersebut Switzerland adalah salah satu tempat yang dicadangkan.
( shorturl.at/hOT09) (bagaimana indahnya syurga di sana nanti. Wallaualam. Allah Maha Mengetahui.
Seterusnya, diteruskan dengan penerbangan kami memilih Singapore Airline iaitu (RM2305 return/pax). Walaubagaimanapun, rezeki juga disebabkan SIA adalah antara syarikat penerbangan terkemuka dunia. Lebih seronok, anak-anak boleh minta bila-bila masa sahaja aiskrim dan makanan ringan sepanjang penerbangan. Perjalanan mengambil masa hampir 13 jam tidak terasa. Juga, disarankan untuk menyatakan permintaan terhadap MUSLIM MEAL semasa menguruskan daftar masuk.
Musim – Kebetulan harga tiket promosi pada masa itu, musim luruh (autumn) season, jadi amat sesuai untuk bawa anak-anak bersama .Walaupun mereka mempunyai masa siang panjang namun cuaca sangat nyaman dan mulai gelap pada jam 9.28 malam. Kata orang lebih baik untuk elak melancong antara musim, kerana dengan cuaca yang tidak menentu panas terik, berangin dan hujan. Jadi Makan digalakkan memilih musim mengikut keselesaan masing-masing. Tambahan pula, dicadangkan untuk memuat turun aplikasi MeteoSwiss
(shorturl.at/AJS48) untuk memeriksa ramalan cuaca dan cuaca langsung.
Matawang – Switzerland guna matawang Swiss Franc (CHF). Kadar tukarannya tidak jauh beza dengan USD. Mata wang pada masa kini, 1CHF = RM4.75. Untuk memudahkan urusan, kami terlebih dahulu menukar CHF dalam WISE card (shorturl.at/hJN47). Selain itu, wang tunai ditukar sedikit untuk persediaan.
Penginapan – Beralih bagi perkara ini, terpulang pada pilihan masing-masing. Setiap pelancong mesti mempunyai pilihan dan tema tersendiri bagi hostel, hotel, homestay atau lebih kepada gaya mewah. Kami memilih seakan homestay yang mempunyai tempat tidur yang selesa untuk anak-anak, juga tidak berkongsi bilik air, dapur memasak & pakej pemandangan yang cantik. Daripada apa yang kami baca dalam review & previous rating sangat penting (Booked via Airbnb & Booking.com).
Kenderaan – Semasa kami di NZ pada tahun sebelumya, kami telah menyewa motorhome, dan ingin merasai pengalaman baru untuk kalini kami menaiki public transport. Terlebih dahulu jangan risau tentang public transport adalah superb & efficient. Kami mengambil Swiss Travel Pass (STP)(shorturl.at/ilrG1 ) untuk tempoh 8 hari, hanya membeli untuk dewasa sahaja dan percuma untuk kanak-kanak bawah 16 tahun. (Booked via Klook website). Tersangatlah berbaloi dapat menaiki pelbagai jenis pengangkutan seperti bas, keretapi, cruise & cable car sambil menikmati pemandangan sekeliling. Lebih berbaloinya ialah tiket ke Jungfraujoch 25% (139.60CHF/adult) dan Mt.Rigi adalah sepenuhnya percuma dengan STP. Dengan hanya memuat turun SBB apps untuk info lebih lanjut (masa, platform & pilih pengangkutan dari satu tempat ke tempat lain).
Makanan – Yang paling dinantikan bagi setiap kali pelancongan, malangnya Switzerland memang mahal, dinasihatkan untuk berjimat kerana tiada pilihan memang perlu bawa ready-to-eat meal dari Malaysia atau dimasak sendiri dengan membeli barangan dapur di supermarket COOP / MIGROS. Juga, untuk satu kali meal RM300++ dianggarkan portion untuk family kami. Kids boleh dikatakan sentiasa lapar. Jadi kami selalu bersedia pada bila masa pun.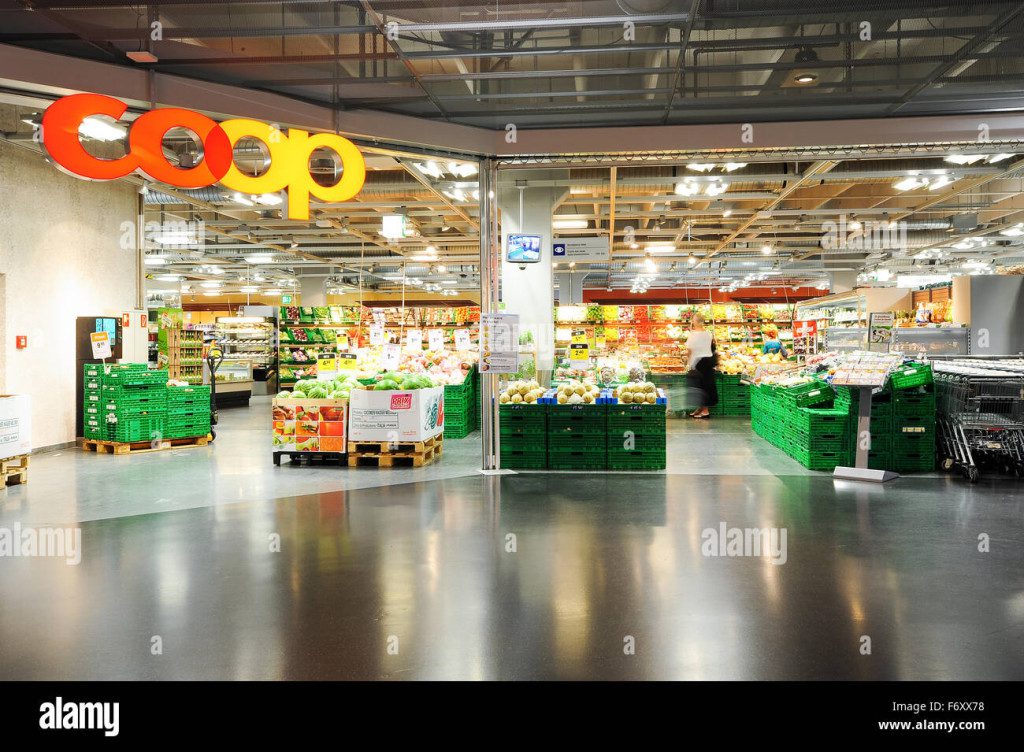 Coop supermarket
Photos www.alamy.com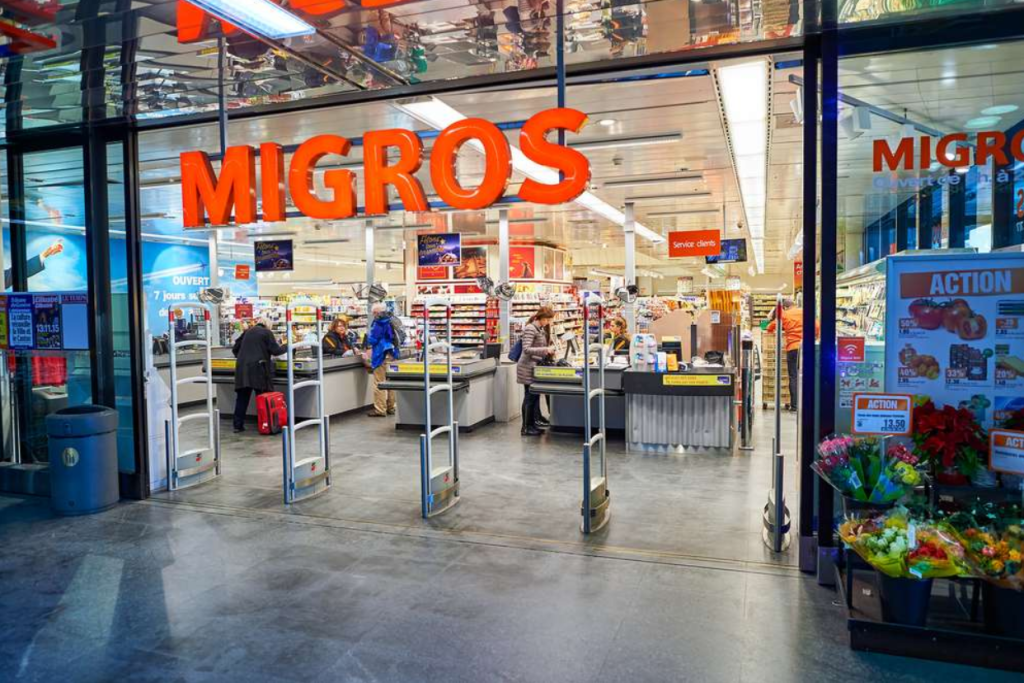 Migros supermarket
Photos: RetailDetail EU
Bajet – Ikut kemampuan dan kesesuaian keperluan masing-masing. Yang pasti travel sendiri adalah lebih jimat dan seronok.
Parenting – Kita cuba bagi anak-anak rasa selesa walau penat sekalipun. Paling best kat sini sebab boleh kata setiap tempat ada playground. Jadi anak-anak tak bosan & enjoy sangat bermain, berjalan, breathtaking view. Parentinghood is never easy. Masa inilah suami dan isteri perlu memainkan peranan masing-masing. Isteri memasak, suami pula merancang route untuk next day. Isteri mengemas suami layan anak-anak manakala isteri tidur suami buat reels.
INFO: Bila travel jauh jangan lupa sediakan ubat-ubatan untuk persediaan awal. Lebih-lebih lagi bawa anak-anak kecil. Saya bagi anak-anak multivitamin juga untuk boost immune diorang. Bawa botol air kosong untuk isi water tap / water fountain percuma. Boleh cari 'Halal Food' & 'Islamic Center' dekat Google Maps untuk cari makanan halal & masjid berdekatan dengan kita. Sebelum naik gunung periksa dulu live webcam & suhu. Takut nanti rugi dah bayar mahal tapi cuaca tak berapa ok atau pakaian kurang sesuai. Asalnya dalam itenary kami tak ada Mt. Rigi, sepatutnya hari tersebut kami pergi Mt. Titlis untuk main snow, tapi last minute kami tukar ke Mt. Rigi sebab dah main snow dekat Jungfraujoch. Amazingly pergi Mt. Rigi dapat rasa pelbagai pengalaman perjalanan. Berbaloi! View pun awesome! Lucerne > Vitznau – Cruise Vitznau > Mt. Rigi – Cogwheel train Return, Mt. Rigi > Rigi Kaltbad – Train Rigi Kaltbad > Weggis – Cable Car Weggis > Lucerne – Cruise
Selain itu, membeli STP memang berbaloi, cuma payah sedikit masa nak heret luggage. Kami jadikan Brienz sebagai base (4 malam), Lucerne (2 malam), Zurich (1 malam). Jadi amat mudah untuk mengubah perancangan jika tengok forecast tak berapa ok untuk berjalan.
Line internet, suami saya membeli simcard Sunrise yang berharga 19.90 CHF = 92.49 (Zurich Airport), saya pula menggunakan E-sim Airalo. Secara kasarnya, ini tidak mengikut bajet yang penting dapat mobile data sebab nak update Instastory / WhatsApp status.
Macam biasa insurans travel jangan lupa k! Kami ambil Etiqa 360 untuk satu keluarga yang dikenakan sebanyak RM470.
Bonus kalau dapat ambil gambar & video yang proper bila bawa anak-anak ni. Tak dapat pun tak apa. Just cherish every moment because soon all moments turn into memories.
Semua yang berlaku adalah kehendak dan takdir Allah tapi selagi kita boleh merancang and try to make the most of our trip if possible.
PERBELANJAAN YANG TELAH DILAKSANAKAN
| | |
| --- | --- |
| Tiket Penerbangan | RM2305 per pax |
| Swiss Travel Pass (untuk pengangkutan awam) | 139.60 CHF = 649.21MYR (untuk 8 hari) |
| Perbelanjaan satu kali makan | RM300+ |
| Simcard Sunrise | 19.90 CHF = 92.49MYR |
| Insurans Etiqa 360 | RM470 |
Gambar yang diambil semasa di Switzerland: