Written by Zainal Zikri & Nasuha Aiedn
Follow us on Instagram and subscribe to our Telegram channel for the latest updates on MyRehat.
An OTA is a website that provides a platform for hotels, airlines, tour operators and travel related businesses to sell their services to consumers. In the past before online these services were advertised in print media and TV. Now you don't see these ads, it's all online now. It costs nothing to advertise on OTAs but for every booking there will be commission charges. Charges vary from OTA to OTA.
MyRehat derives 80% of it's booking from OTAs. To run a homestay business, you need your home to be seen on an OTA. MyRehat is on four platforms at the moment. We will describe the pros and cons of listing on these OTAs. We would like to state your experience listing on these platforms may be different from ours. The four platforms we are on are Airbnb, Agoda, Booking and Traveloka.
Airbnb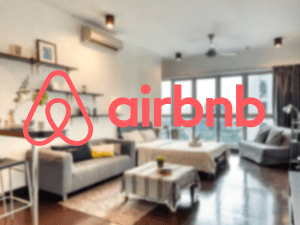 Airbnb was established in 2008. Airbnb is a shorter form of its original name, AirBedandBreakfast.com. Consumers can book accommodation as well as experiences on its platform. Currently it is valued at USD143 billion! Wooh not bad for its two founders who started out by just renting their rooms. In Malaysia they have 66,000 listings as of 2020.
MyRehat first started listing on Airbnb. To list is a long process and requires patience, however the step-by-step process is easy to follow. Airbnb takes 14% commission charge for every booking transacted at their platform.
Why did MyRehat list on Airbnb, that time is the most well-known platform, and their commission was only 3%. They have increased since then. They also have an insurance policy for those who have listed from their units on their platform. So, disputes and damages caused by guests can be claimed through. We submitted three claims. Successfully in two claims and unsuccessful on the third one due to insufficient evidence. Asides from insurance you can also set a deposit which is a minimum of USD100. Since our claim was small it came from the guest's deposit. We heard from other hosts when the claims come in thousands Airbnb did pay these claims via their insurance. The Host Insurance Protection provides up to $1,000,000 USD in liability coverage for a host's legal liability to a guest or third party who is injured or has property damaged as a result of an Airbnb stay.
What we liked about Airbnb is also a very effective Feedback system and recognition of being a good host. Both guests and hosts can leave feedback good or bad on their stay at the unit. Bad guests are removed from the platform, same goes for Bad hosts as well. We have consistently maintained a Superhost rating for the past 2 years. We strive to give the best service for us to maintain our Superhost status. If you maintain it for a year you will get USD100 credit. We used it to book units in Penang and Genting. All the other OTAs do not have this benefit.
Airbnb remains our preferred OTA 🙂
Agoda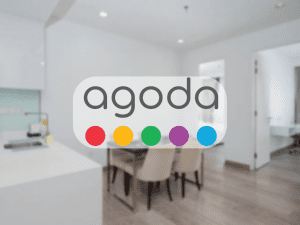 Agoda.com was established in 2003 and is a worldwide hotel booking service. In 2007 it was bought by Booking Holdings, the parent firm of Booking.com, another OTA we will  review later. The Agoda network offers consumers a selection of over one million hotels and vacation rentals, with a particular emphasis on the Asian market. 
Its primary business is still hotel bookings but in order to compete with Airbnb it launched Agoda Homes a few years ago. Registration process is easier than Airbnb for hosts. MyRehat is charged 10% commission for bookings on Agoda. Agoda has many tiers of commissions. It's highest is 17% with more features and benefits but for now we are ok 10%
Many Asians prefer Agoda as they can earn points and use it to offset their payments, and the registration process is very easy peasy lemon squeezy! For hosts because the registration is easy you can't really tell who is booking. The guests can even use their Facebook profile and don't have to give any contact details which is a hassle for hosts to communicate with guests. Their screening of guests is also not the best. So, you will get bad guests from Agoda eventually. You get bad guests too on Airbnb, but the incidences are less.
There is also no insurance policy, so anything happens to your unit or guest there is no protection. As hosts, the best we can do is collect a token deposit of a few hundred Ringgit but if your TV is damaged that deposit will definitely not cover it!
Same as Airbnb, Agoda has a rating system for hosts, which is Agoda Top Host. It's not as great as Superhost on Airbnb but as hosts we should always try to maintain a good rating.
So why are we on it? It's low commission and locals are frequent users of Agoda. In fact, MyRehat's booking on Agoda is more than Airbnb this year.
Booking.com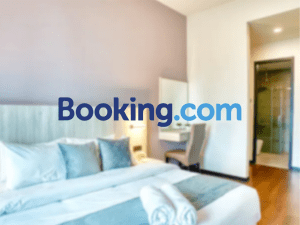 Booking.com, which was created in 1996 and is owned by the same firm as Priceline, is one of the oldest online travel agencies. The company's headquarters are in Amsterdam, the Netherlands, and the website contains listings from 200 different countries across the world.
Booking.com, like many other OTAs on the market, allows customers to book hotels, motels, vacation homes, and other similar types of accommodations, as well as act as a travel fare aggregation service. In Malaysia, Booking.com has more than 10,000 listings.
Many travellers who stay in hotels are already familiar with Booking services and have a high level of trust in the site. Depending on visitor comments, hosts may be awarded the annual Guest Review Award. It comes with an official certificate as well as a window sticker that may be displayed within the rated property to attract additional customers. There is also a ready-made digital version of the certificate that can be shared on social media. Their rating system is good.
Guests are not charged any additional costs for using the service. This increases its popularity. As a result, putting your ad here increases the likelihood that it will be viewed. Guests are not charged any additional costs for using the service. This increases its popularity. As a result, putting your ad here increases the likelihood that it will be viewed.
Like Agoda, for hosts they have tier commission rates for the bookings between 15% to 18%. 
Booking.com's registration process is primarily registered for hotels so for homestays it is a very complex registration. 
Like Agoda, Booking.com doesn't have insurance for hosts. So, you have to take a token deposit but this may only cover small damages. Their guest verification is also not as strong as Airbnb so you will get bad guests from here. Though they do ban guests who are bad but only if it meets their definition of a bad guest.
MyRehat only used Booking.com selectively. To be frank they are our least favourite platform.
Traveloka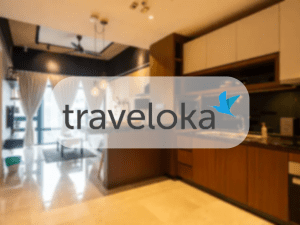 Traveloka is an Indonesian OTA that offers online airline tickets and hotel booking services and is fast growing throughout Southeast Asia and Australia. It has lately expanded to provide lifestyle products and services such as attraction tickets, excursions, vehicle rentals, and restaurant coupons.
In Malaysia, Traveloka has thousands of listings and guests prefer Traveloka for its competitive pricing. 
The host and listing registration process are quite easy, plus their in charge person would guide you from A to Z! Yes, you are assigned an account manager so any issues you can refer back to them. Other OTAs have issues called customer service.
They only have one standard commission like Airbnb. They charge 17% for every transacted booking. 
We only listed here a few months and we have not had many bookings possibly also due to the current MCO.
There are many other OTAs out there, but this is the four we use. There are hosts also who don't use OTAs but Instagram and Facebook. We also do that but so far, we find that OTAs right now bring us more guests. Find the best OTA for you and just work on beautifying your listing there and if one OTA works for you that is ok too. 
Check our listings at Airbnb for your listing's idea below. Thanks for reading.