Written by Nurul Fadhilah
Follow us on Instagram and subscribe to our Telegram channel for the latest updates on MyRehat.
Streaming is a method of viewing a video or listening without actually downloading the media. The first popular streaming service was YouTube which began in 2005. In fact Malaysia's first streaming service, tonton was launched in 2010 and it was launched before Amazon and many other streaming services.  Malaysia Boleh 🙂
On 1st June, Disney+ is officially in Malaysia under the name Disney+ Hotstar officially launched its service in Malaysia. Since there are many streaming service platforms right now, I'm pretty sure it's hard to choose which one to subscribe for. The important thing people look for in a streaming service are content and price.
There are some popular streaming service platforms such as Netflix, Apple TV and Amazon Prime Video. There are also some free ones but with advertisements such as tonton, VIU and WeTV but you can pay for an ad free stream if you wish.
Below are popular streaming services to consider.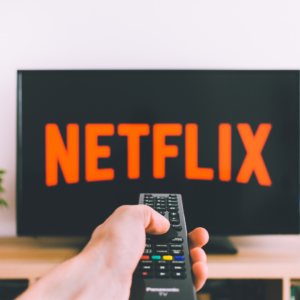 1. Netflix
Netflix is the most popular streaming service platform internationally and one of the most popular in Malaysia. There are new TV series and movies every month on Netflix. Netflix's range of shows from anime, documentaries, Netflix original series or movies, Korean dramas and much more reflects its dominance in the world of streaming. Some of the local films and series shown on Netflix are Paskal, Lagenda Budak Hostel, Hantu Kapcai and many more.
Netflix has 207.64 million paid subscribers worldwide as of the first quarter of 2021.
Netflix package : Mobile (RM17 / month), Basic (RM35 / month), Standard (RM45 / month) and Premium (RM55 / month). Each package offers different features but you can cancel it at any time. You also get the first month free as a trial.
| | |
| --- | --- |
| Mobile | RM17 / month |
| Basic | RM35 / month |
| Standard | RM45 / month |
| Premium | RM55 / month |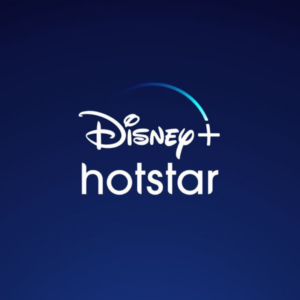 2. Disney+ Hotstar
Disney+ Hotstar is a new streaming service platform in Malaysia and one Malaysians had been eagerly anticipating for. Disney+ has content that is more suitable for kids to watch. It will also have more local series and films! Some of the old Disney series such as Hannah Montana and The Wizards of Waverly Place are also in it. To Marvel Cinematic Universe (MCU) fans, there are a huge amount of MCU movies and TV series. Some of the local films and series on Disney+ Hotstar are KL Gangster, Istanbul Aku Datang, Munafik and many more. There are also local cartoons like Upin & Upin and Ejen Ali! Yeah!
Disney+ Hotstar had around 28 million paid subscribers, taking the global subscriber base of Disney+ up to 94.9 million.
There are two ways to subscribe to Disney+ Hotstar. You can subscribe to it directly on your devices for RM54.90 for three months or on your Astro package as a Movie Pack customer with an additional RM5 on your Astro fee.
| | |
| --- | --- |
| Devices | RM54.90 / 3 months |
| Astro customers | RM5 addition to Astro fees. |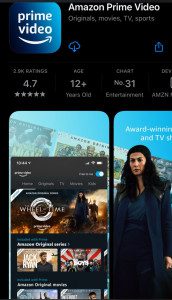 3. Amazon Prime Video
Amazon Prime Video is not popular in Malaysia but has many subscribers in North America. It has many series and movies from Westerns to Tamil. It also has anime and documentaries. Amazon Prime Video and Netflix are similar but Netflix still has more content at the moment. Amazon may rival Netflix one day as it's in talk to buy MGM the studio that produces James Bond movies.
In January 2020, it is said that there are 8 Malaysian films on Amazon Prime Video, that is the popular and award-winning titles : Mukhsin, J Revolusi (Jrevolution), Kampung Drift, Songlap, KIL, Chow Kit Balada Pencinta (A Lover's Ballad) and Anak Jantan (The Son).
Amazon Prime currently has over 150 million subscribers around the world.
Amazon Prime Video charges you in USD ($5.99) but roughly if you exchange it into MYR, it will be RM25 / month. There will be a month free trial once you subscribe to it.  You can also cancel it anytime you want.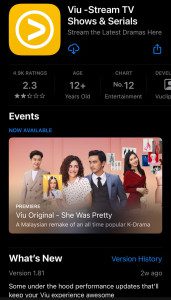 4. VIU
VIU is for those who love Korean dramas and movies. There are plenty of them in VIU. Even the latest ones such as The Penthouse Season 3! Most of their content is from Asia : Korea, Thailand, Japan, China and Indonesia. It also has local series and movies in addition to anime too. It first started in Hong Kong in 2015. For hardcore Korean dramas fans, this streaming service platform is one of the best! Some local series and films on VIU are Black, Budak Tebing, Kampung Kolestrol and many more.
VIU announced it has reached 45 million monthly active users and 5.3 million paid subscribers. You can watch it for free but it comes with advertisements. You can subscribe for one month (RM12.90), six months (RM48) or a year (RM88). That depends on you. You can also cancel it anytime you want.
| | |
| --- | --- |
| Basic | Free (with advertisements) |
| 1 month | RM12.90 |
| 6 months | RM48 |
| 12 months / 1 year | RM88 |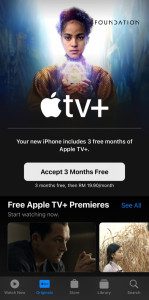 5. Apple TV+
This is specific to iOS users. Most of their content is American-based and a few non-American ones. They have Asian series or movies, though very limited. They have their own original production under Apple TV which produces tv series, movies and documentaries. They have no Malaysian content on their platform.
Apple TV+ has 40 million subscribers by the end of 2020.
You can get Apple TV+ free for a year, if you buy certain Apple devices! The price is RM19.90 / month and if you want to subscribe for a year the price is RM199.90. You can try for 7 days free for a new account.
| | |
| --- | --- |
| For new Apple devices | Free for a year |
| For new account | Free trial for 7 days |
| Monthly | RM19.90 |
| 12 months / 1 year | RM199.90 |
So in the end, there are no best streaming service platforms. It really depends on you and what you want (plus if you can afford it). At MyRehat Netflix is available at all our units in Regalia and Anggun Kuala Lumpur. Book now to enjoy Netflix for FREE.
Happy watching!