Durian season is here again! The King of Fruits season comes every year. We Malaysians can't wait to savour all the different types of durians. Nowadays, you don't have to travel far to get durians because you can get durians wherever and whenever you want, especially when it's their season!
The only good thing about this Covid-19 pandemic is that durian is cheap!
Malaysia is the second largest exporter for durians in the world due to its well-cultivated durians. Durians can be divided into two flavours, sweet and bitter. Since there are many kinds of durians, you probably wonder which is the best durian species.
So here I will list the top 10 most popular durians in Malaysia.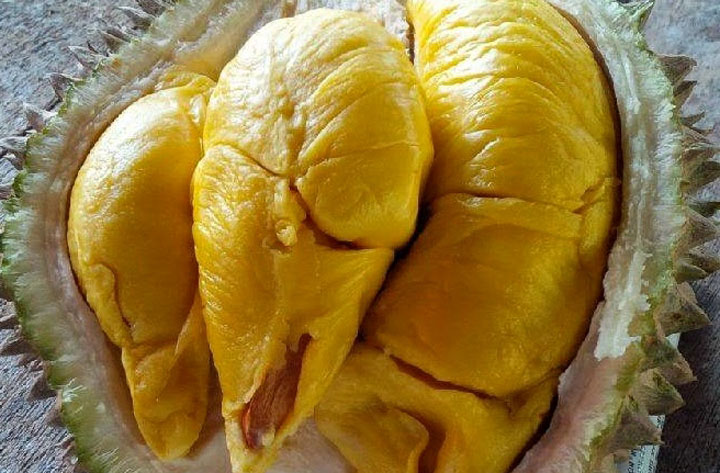 Credits : hasrulhassan
Musang King
Musang King is almost everyone's favourite due its creamy flesh that melts and the sweetness that blends well with the bitterness of the flesh. The smell also compliments the flavour well. The flesh is bright yellow and it has greyish-green with a hint of yellow to it and the spikes seems to resemble a pyramid. You can easily recognize which one is Musang King based on the appearance.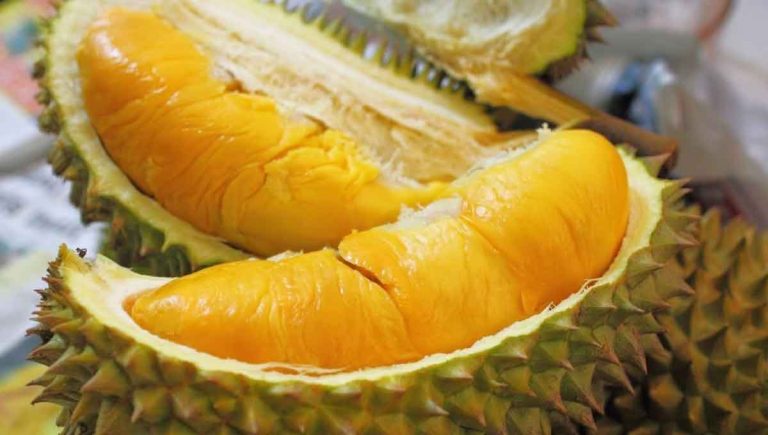 Credits : kartel dakwah
D24
D24, also known as Durian Sultan is also a popular one. Before Musang King gained fame, D24 used to be people's favourite during the 1990s due to its bitter taste with a hint of sweetness and alcohol. The high quality ones have a dry and firm flesh. You can identify which is D24 by looking at its short stem and the obvious brown ring at the bottom.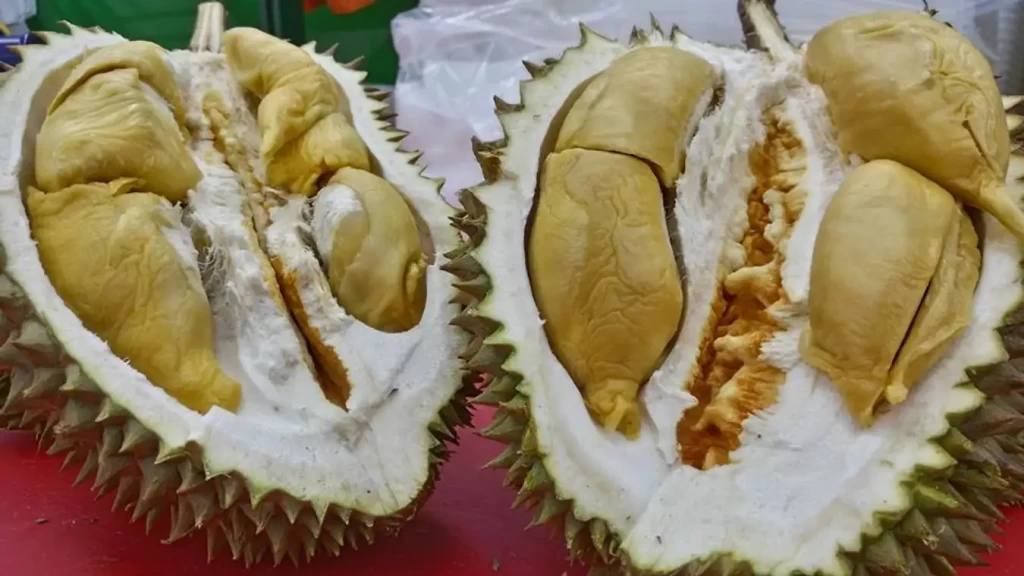 Credits : Facebook Sinnaco Durian Speacialist
Tekka
If we have a king, we also need a queen. Tekka, also known as Musang Queen, is famous for its consistent texture and bitterness. The texture is different from Musang King. Musang King has a butter-like thick flesh while Tekka has a moist and wrinkly – almost pale flesh that is easy to break. Since Tekka is rare to find, whenever you see one, grab it! However, it is not recommended for first timers, like Musang King due to its acquired taste which is not well liked by the average durian eater.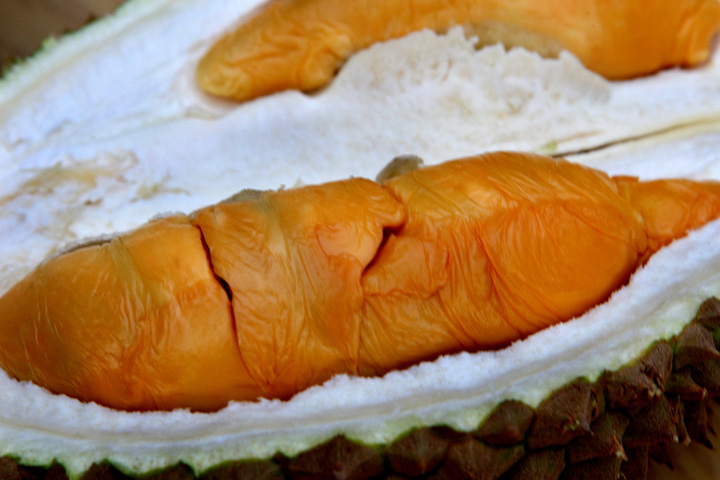 Credits : hasrulhassan
Red Prawn
Can be known as Hong Xia is good for those that have a sweet tooth due to its sweet texture. Its creamy and sweet with a slight bitter taste makes it feel like 'dessert' among durians. The texture is creamy but slightly watery. It can be easily obtained in Pahang and Johor. It also has a reddish-orange flesh that stands out among other durians. Due to its sweetness, it is often used to make ice cream and durian porridge.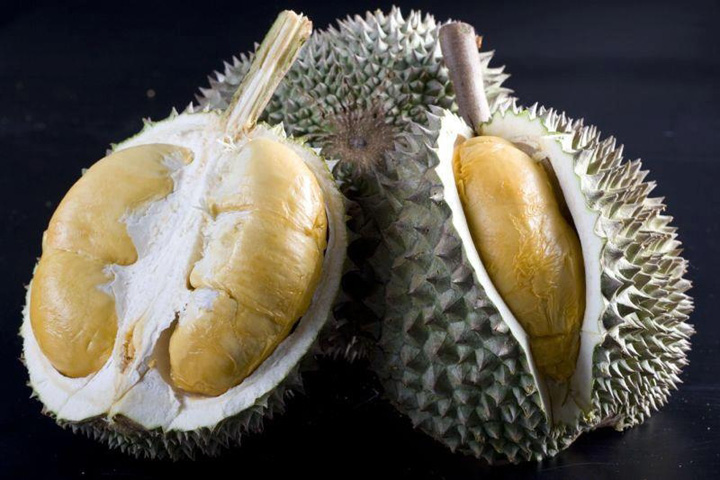 Credits : hasrulhassan
Black Thorn
Black Thorn is an award-winning durian. It is one of the higher grade durians and extremely rare. Like Musang King, it has a bitter-sweet flavour but with a more balance between the two. Its flesh has a rosy shade of orange, smooth and soft too! It can be pretty pricey due to its rarity. To identify this durian, look for the darker tips of its thorn.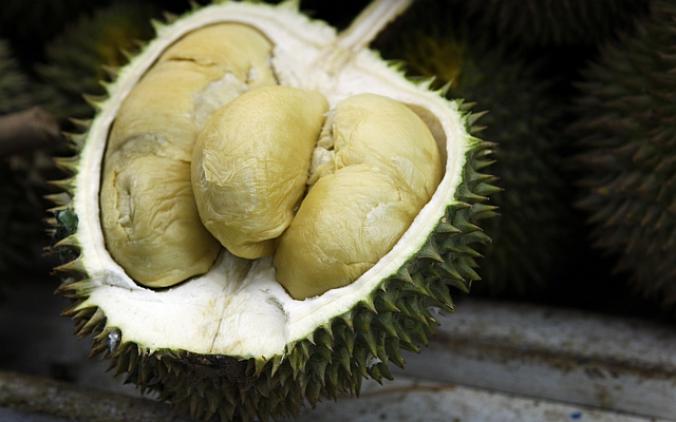 Credits : kartel dakwah
XO
XO has a bitter alcohol aftertaste. It gets its signature bitterness from prolonged fermentation. This process gives it a washed-out look, that will make it look unappealing though the taste will prove you wrong. It has a texture that is soft and slightly watery. You can recognize XO durian by its appearance of a brownish-green shell with an oval appearance, thorns pointed inward at the base of the fruit.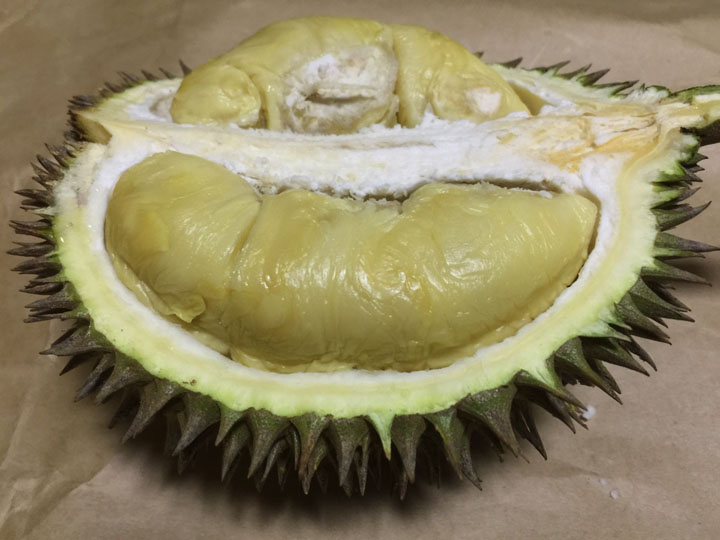 Credits : hasrulhassan
Golden Phoenix
Golden Phoenix has a pungent smell that you can smell from faraway. It has a sharper and bitter taste for those wanting something bitter. It has a thick flesh with small seeds. It is also affordable and easy to get, so because of this, it is a popular choice among casual durian eaters.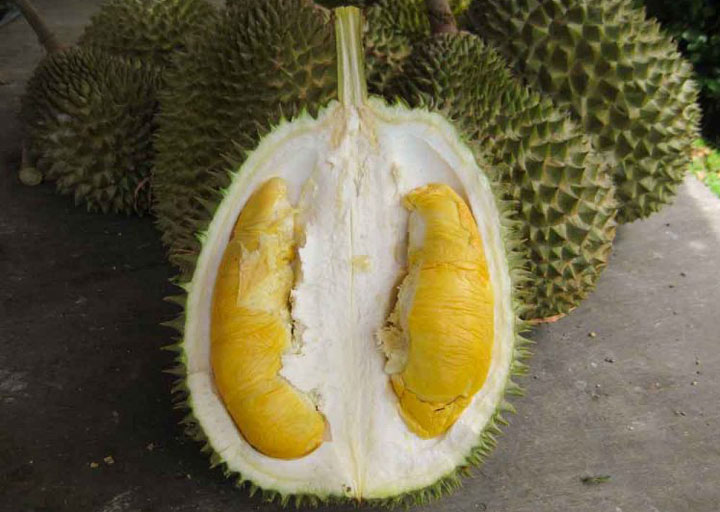 Credits : hasrulhassan
D101
D101 has a combination of bitterness, sweetness, with a slightly sour taste. Its flesh is yellow with a subtle orange colour. The flesh is firmer than any other durians. It also falls off the seed easily. D101 is one of the common durians so you can get it whenever the season comes.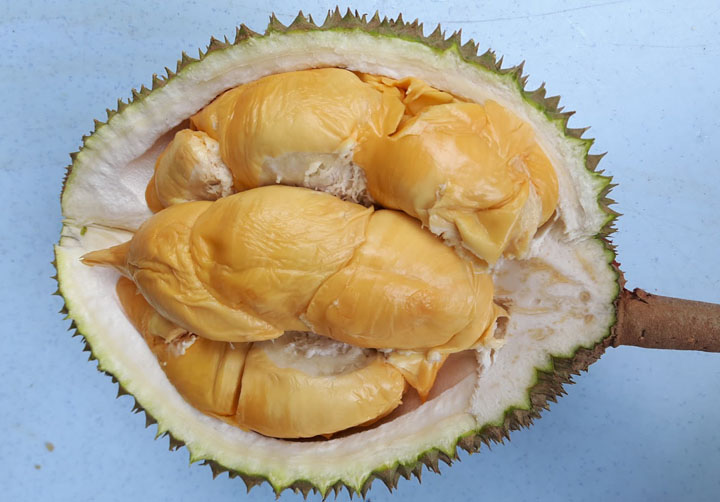 Credits : hasrulhassan
D13
D13 has a red-orange flesh that's sweet with a slight bitterness on it. D13 is also often mistaken as Red Prawns. You can spot the difference between Red Prawns and D13 by identifying the seeds. D13 has a large seed among other durians. It has a sticky and not fibrous texture. You can usually get an affordable price for D13.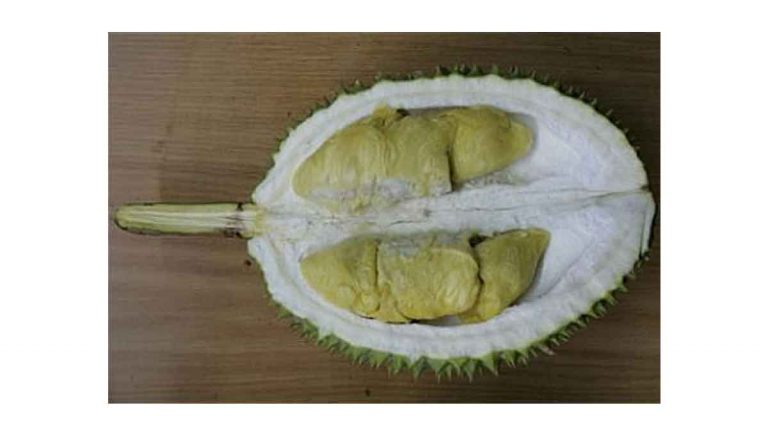 Credits : kartel dakwah
D1
D1 has a milky and sweet taste. The flesh is also crunchy on the surface but it slips off the seed easily. It has a small seed that will make it easy for you to eat. It also has a pale yellow flesh. Due to its milky taste, children can find them appealing to eat.
We really are lucky to have durians in our country. Either you love it or hate it, durians are a part of Malaysian culture. There are many more types of durians that you can keep an eye out for but these 10 are the ones that people search for whenever durians season comes.
Make sure you eat durians in moderation, we wouldn't to make ourselves too full to eat durians later on right? 😀
Happy eating!