Written by Nasuha Aiedn
Follow us on Instagram and subscribe to our Telegram channel for the latest updates on MyRehat.
Hari Raya Aidilfitri, or also known as Hari Raya Puasa is one of the religious holidays celebrated by Muslims in Malaysia and all over the world. This festival marks the end of Ramadhan, the holy month of fasting, which is considered a blissful occasion as it signifies a person's victory and accomplishment in obedience and self-resistance.
Aidilfitri 2021 will be the sad Raya for all of us. Most of us are stuck and can't go back to their hometown due the Movement Control Order (MCO). You could say 'Raya is cancelled' and no baju raya because you don't have the mood to celebrate, right? What is Raya without our parents, our big family and friends? This is really disheartening for all of us. I really hope this will be last MCO in Malaysia!
Despite the gloom, we still have our Raya foods. I can say that no one can resist it! Imagine your table full of cookies, candy and traditional delicacies.
So, what are you waiting for, lets diggin'!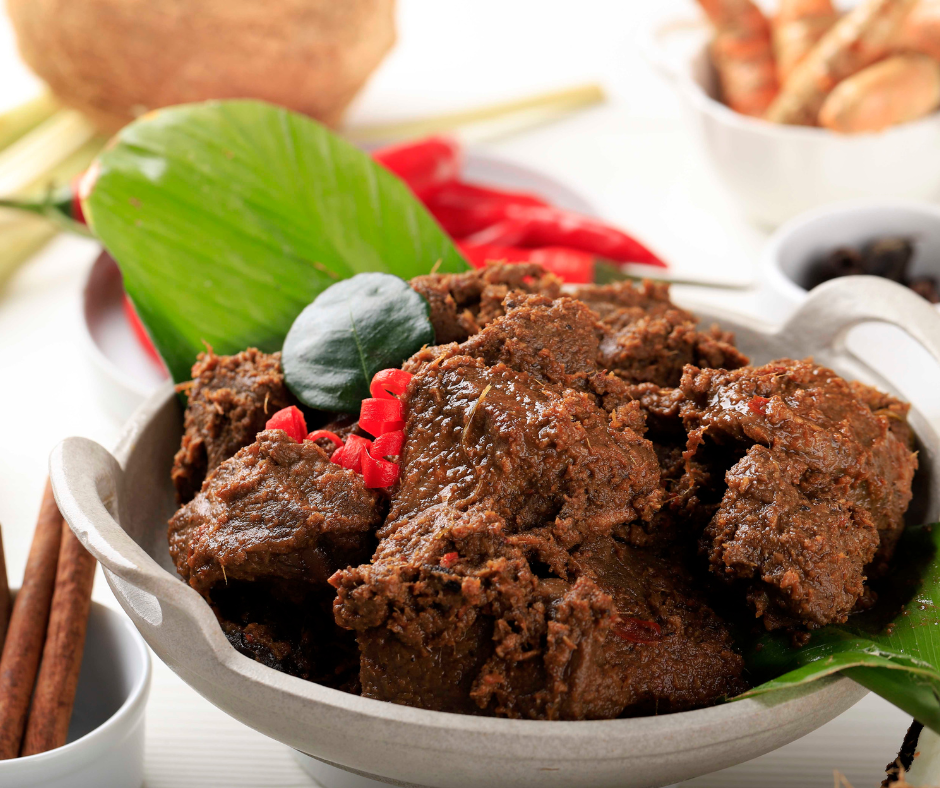 Photo credit: kitchensanctuary.com
1. Beef/Chicken Rendang
Rendang is the King of Hari Raya foods, the most dish of this occasion. Do you know that Rendang was declared by CNN as the "World's 50 Most Delicious Foods"? Rendang has a rich, savoury gravy that has been infused for hours with aromatic spices and coconut milk. This dish is often prepared with either beef or chicken, but if you're lucky you can find even Cockles (Kerang) Rendang.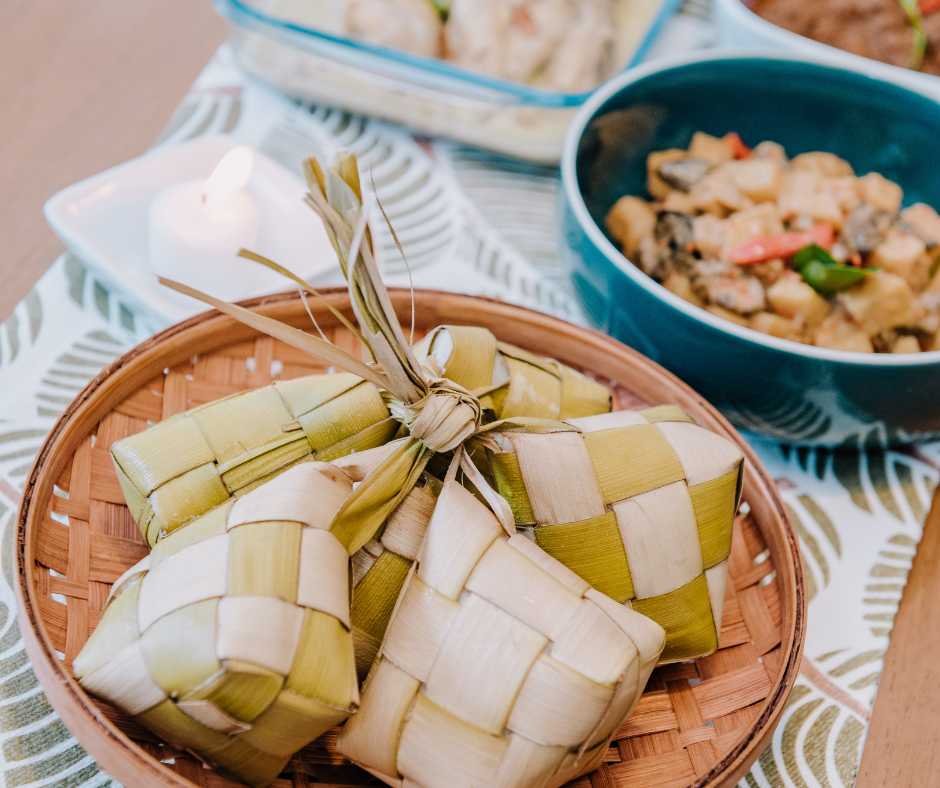 Photo credit: masak-masak.blogspot.com
2. Ketupat Nasi
While Rendang is the King, nothing symbolizes Hari Raya more than Ketupat, one of the must-haves. Ketupat Nasi is rice boiled in a diamond-shaped pack of woven palm leaf strips. As it cooks, the rice grains would expand to fill the pouch and the rice becomes compressed into soft cakes. It must be peeled, cut into pieces, and eaten with dishes such as Rendang, Serunding, Kuah Kacang, Kuah Lodeh, and others.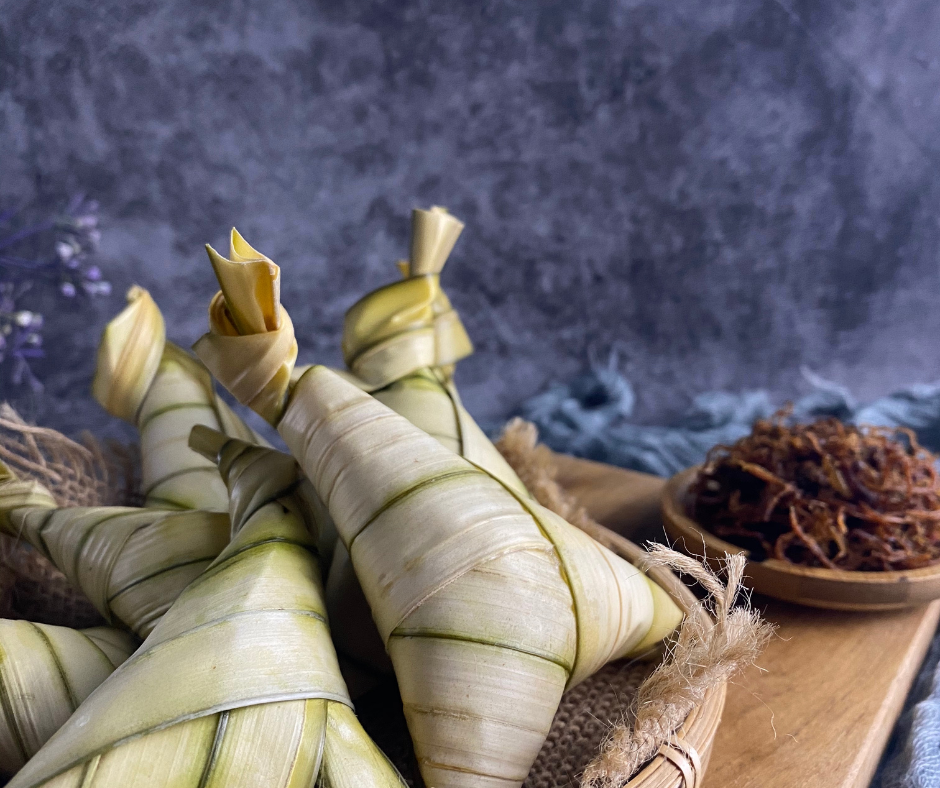 Photo credit: anyaabdullah.com
3. Ketupat Palas
Ketupat Palas is made from glutinous rice (or can be filled with black glutinous rice) and it is wrapped in triangular shape using Palas leaves. Same as the Ketupat Nasi, it must be peeled and served with other Raya dishes. Some people would add beans like soybean or black bean.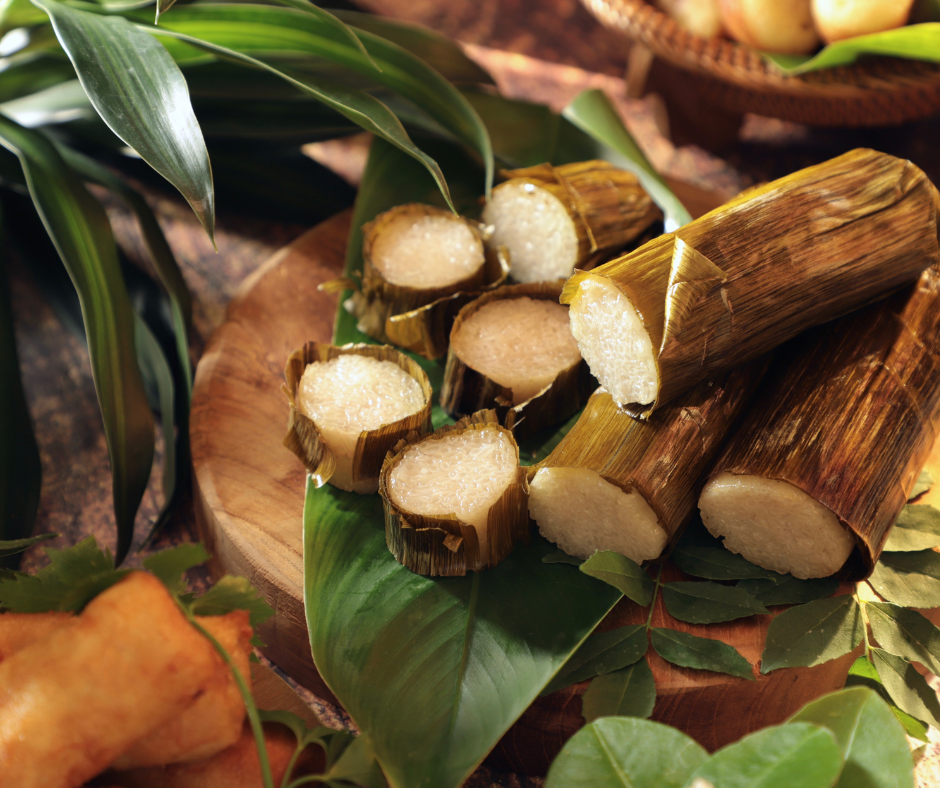 Photo credit: linsfood.com
4. Lemang
Like the Ketupat Palas, lemang also is made from glutinous rice. Lemang comes in a hollowed bamboo tube with glutinous rice, coconut milk, salt, and banana leaves. The banana leaves would prevent the rice from sticking to the bamboo tube. Then it is roasted over fire for a few hours.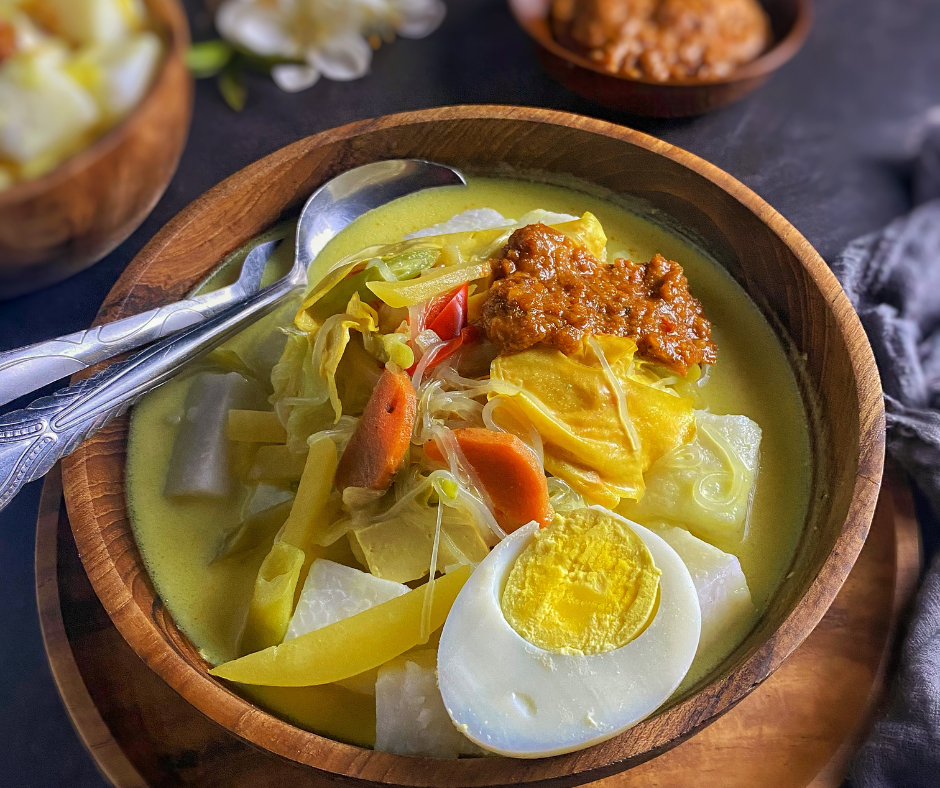 Photo credit: themuddledpantry.com
5. Kuah Lodeh/Lontong
This dish is a combination of ketupat nasi or nasi impit and creamy coconut-based broth with a variety of veggies like eggplant, green beans, carrot, and others. It also has tofu, tempe, glass noodle, tofu skin and black fungus. The use of turmeric would make the dish yellow-ish, while the use of chilies and a bit of spice would make it spicy.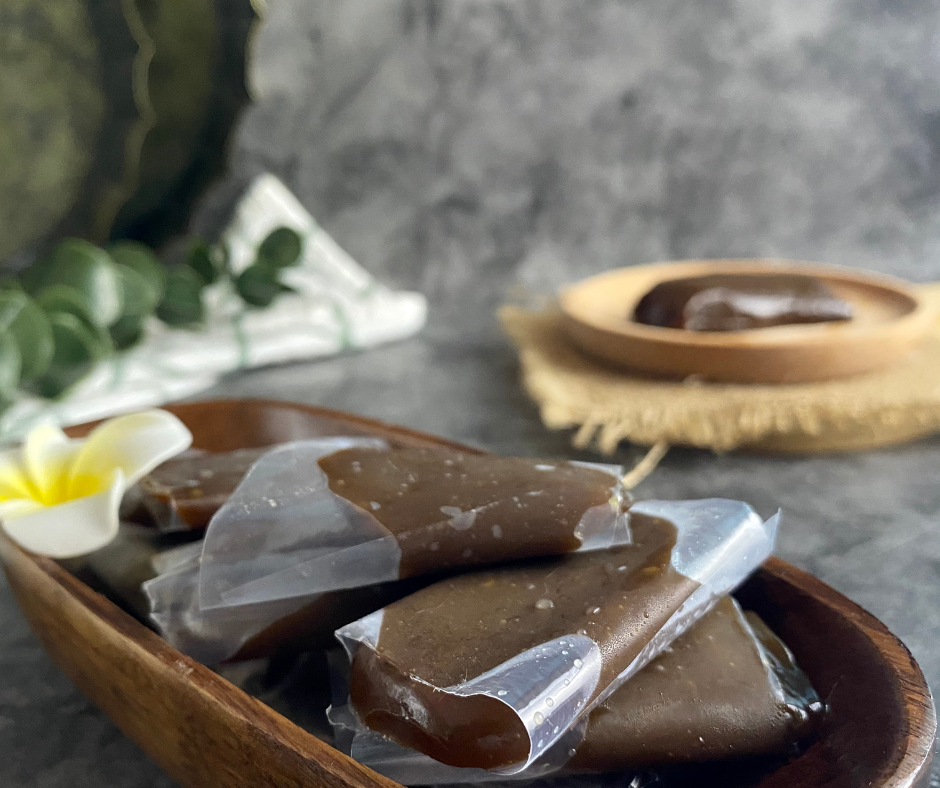 Photo credit: Adam Food Industri
6. Dodol
This popular sweet treat for Hari Raya. Made from coconut milk, brown sugar or gula melaka and rice flour. These ingredients are cooked together for up to nine hours and the cooking process involves continuously stirring the sticky mixture in a hot wok. This dodol is sticky, chewy and sweet. The dodol can also be in durian and pandan flavors.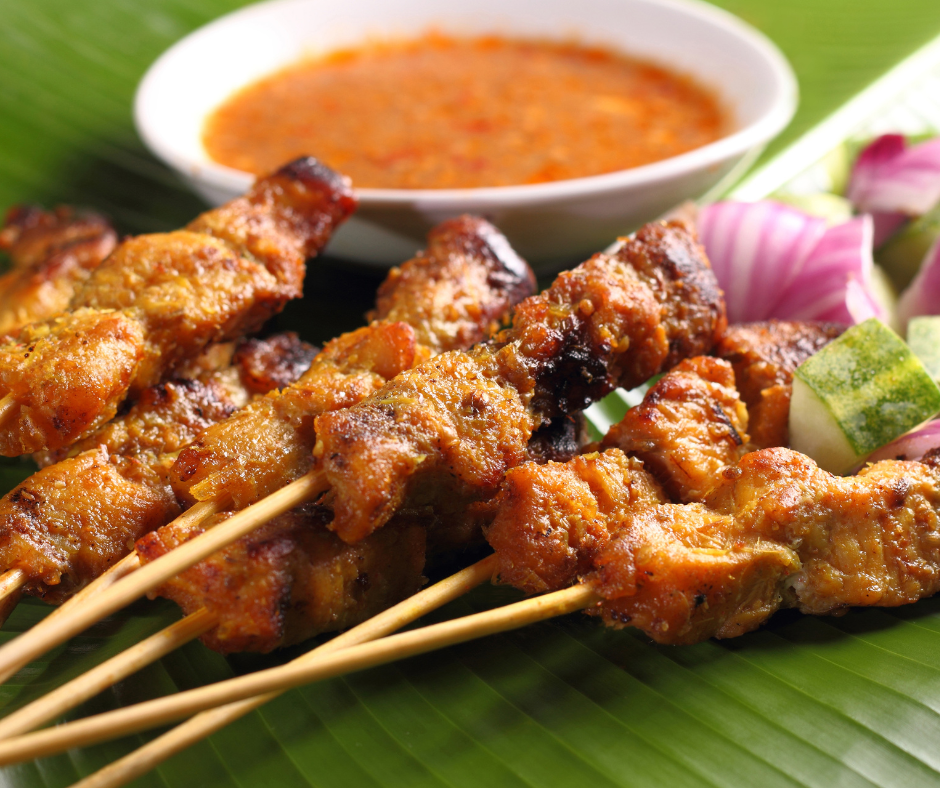 Photo credit: stocksy.com
7. Satay
Satay is something can be found normally year-round. Still, you can find this dish in any Raya open house. Satay is meat skewered on bamboo stick that is grilled over a blazing charcoal fire and served with "kuah kacang" sauce, chunked cucumber, and sliced onions. Don't forget the ketupat nasi too. Meat options may include chicken, beef, liver and mutton.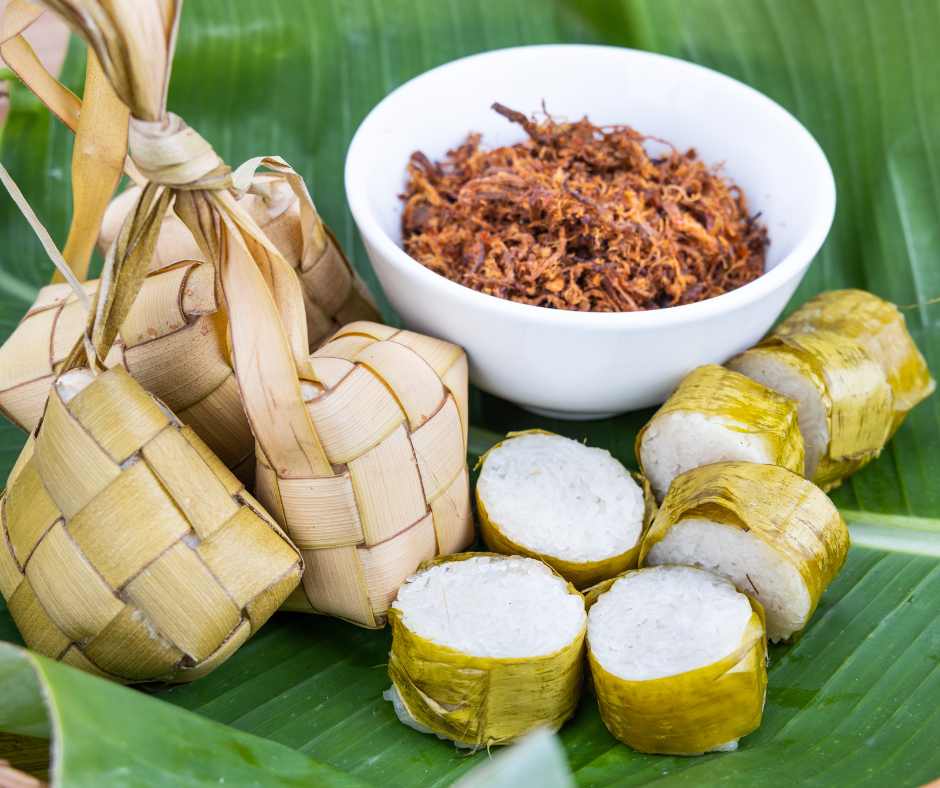 Photo credit: kuali.com
8. Serunding
Serunding or the Malaysian Meat Floss can be made from any meat like beef, chicken, and fish. The meat is seasoned with spices and cooked until dry to preserve texture and aroma. This dish is often served with ketupat nasi, ketupat palas and lemang.
Ahhhh now I am famished and starting to crave for these Raya dishes. Haih… I can't wait for Raya, to sit down and devour my Raya foods!
After all food is the only thing that is going to make this Raya better!